Accountants in Dubai
Customized Accounts Payable Services in Dubai and UAE
The primary goal of every business is to make profits and cut costs as much as possible. The last thing any entrepreneur would want to do is to make even the slightest mistake that would jeopardize the success of the business.
That being said, it's not easy to manage your business and accounts payable at the same time- it is a tiresome job. You will have to hire a full-time employee to handle the accounts, and this in turn, may compromise your cost-saving plans.
However, you can save yourself from all the account trouble by outsourcing account payable services. A proper accounts payable service can help your business manage cash flow and capital the right way.
You will also be able to establish great relationships with your business partners, consequently doing better cost-saving, and increase business agility. What's more, you will remain compliant with government policies and regulations.
We do the same thing at Excellence Accounting Services. We manage your entire accounts payable department so that you don't have to think about entering financial information manually and then tracking data- we handle all the stress for you.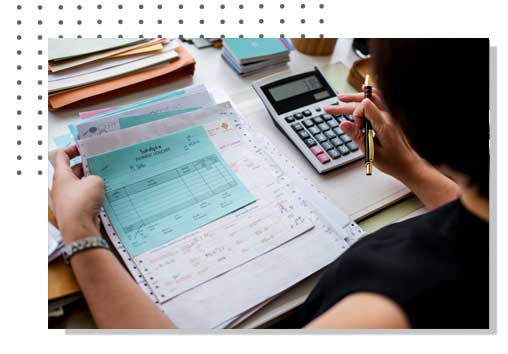 Boost Your Business Efficiency with EAS!
Contact Us to Arrange A Free Consultation
Benefits of Hiring Accounts Payable Services
Cost-effective Pricing
The pricing structure of accounts payable services are reasonable and fit all budgets. You always get the topnotch services at your budget.
High Quality
Accurate and efficient services guarantee high quality. Accounts payable service provider checks in place to make sure all deliverables are of the highest quality.
Data Security
Accounts payable services Dubai, UAE professionals are committed to protecting your data and measure up their disposal to do the same.
Quick Turnaround
Most service providers have the best response time always strive to provide accounting services quicker. You can be certain that your work will be done on time.
Our Accounts Payable Services in Dubai and UAE
EAS provides a comprehensive range of accounts payable services including the following:
Matching Invoices with Purchase Orders
Our professionals handle things such as comparing and linking supplier invoice to data upon which the total cost is based.
Processing Purchase Orders
We process purchase orders. EAS experts create, approve order, dispatch, invoice, deliver and close orders. We include budget and quality checks.
Processing Debit Memos
EAS also processes debit memos, get rid of billing blocks, perform system integration and execute billing for our clients
Processing Standard Pricing Information
Our accounts payable service Dubai and UAE pros can help with standard pricing data processing for any of your accounting and business needs.
Outsource Accounts Payable Processes to EAS
and Attain Enhanced Business Efficiency
Benefits of Hiring Excellence Accounting Services as Your Account Payable Service Provider.
As an AP service provider, we know your needs are not restricted by a time-limit. There will be many times that your in-house accounting specialists won't be available to help.  
Our team of experts have specialized in their fields. They already know how to handle AP services more effectively. This way, you are rest assured there will not be any errors left.
Working with EAS means you have someone who takes care of your financial transactions and keeps everything organized. This makes it easy for you to track all your payments that must be paid.
Efficient Risk Management
Excellence Accounting Services follow stringent principles to ensure data confidentiality. Accounting and bookkeeping information would be treated with the utmost discretion.
Looking for Reliable and Accurate Accounts Payable Outsourcing Services?
in Dubai & UAE? Our Accounts Payable Specialists Would Love to Help.