Auditors in Dubai, UAE
Efficient Internal Audit Services
EAS is a Reliable and Efficient Internal Audit Services in Dubai, UAE. Talk to Us
As businesses work to improve quality and revenue at a cheaper rate while internal audit processes strive to meet the expectations from the managers, Internal Audit becomes crucial for outsourcing.
Internal auditing functions continue to evolve and grow. Unlike in the past where the Internal Auditing was only operational auditing, today, audit experts are at the center of numerous activities. Businesses face many challenges like regulatory matters, creating external audits, and so on.
Business models are always changing by the day, as they now include aspects such as strategic diversification, partnering arrangements, and joint ventures.
To handle all these factors efficiently, your internal auditors must maneuver today's business landscape and communicate clearly with your audit managers. Outsourcing internal auditing can help you navigate the ever-fluctuating business environment.
EAS internal auditors in UAE deliver efficient internal audit knowledge, expertise, and skills that allow them to work efficiently with your company when managing various audit processes for you.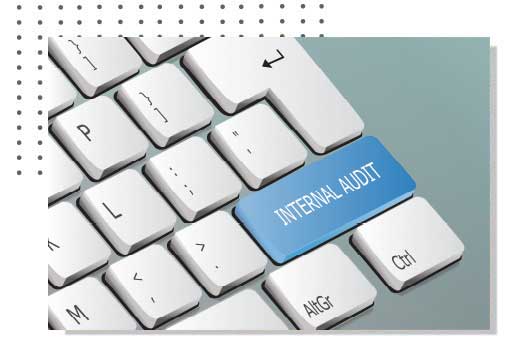 Let Excellence Accounting Services Point Your Audit Team to The Right Direction
Benefits of Internal Auditing Outsourcing Services
There are many benefits of working with HR consultancy outsourcing services in Dubai, UAE such as:
Enhanced Operational Efficiency
Internal Audit checks your company policies and procedures regularly, which helps in navigating business risks. The periodic tracking and monitoring improve effectiveness.
Effective Control
Internal audit streamlines a company' efficiency by managing its business risks. Regular auditing lets the management find ideal solutions to current business risks.
Assess Risks and Safeguard Risks
Internal auditor professionals help management and stakeholders to identify risks via a modelled risk assessment. This helps to identify gaps in the business and how to overcome.
Comply with Laws
With an Internal Audit, you can prepare for External Audit. It's quick and smooth to create legal documents with the help of regular internal audits.
Our Internal Audit Services in Dubai and UAE are:
Excellence Accounting Services in Dubai, UAE offers the following Internal Auditing services:
Internal Controls
Advice on developing actionable internal controls that improve the control of the business environment.
Environment
Provide guidance on how to execute an efficient and solid internal control environment in the company.
Operational Risks
Offer guidance on how to handle key operational risks such as those associated with the reliability of business functions.
Risk Performance KPIs
Help companies with connecting operational goals and risk performance KPIs to the goals of the business.
Processes
Help with business awareness processes and change management by guiding through the transition from current activities to more effective strategies.
Structures
Analyze the core structures, processes, and dynamics needed to underpin efficient business governance.
Thinking of Improve the Efficiency of Your Internal Audits?
Find the Solution You Need in EAS. We Can Help You. Book Free Consultation Today.
When you choose Excellence Accounting Services for your internal auditing, you are choosing experts with the following qualities:
Our internal auditors in Dubai, leverage risk-based strategies to evaluate your financial systems, operational efficiency, and controls.
When conducting regular audits, our auditors take into account obstacles and opportunities application to your business.
We create internal audit reports that offer valuable recommendations for your company to implement and succeed.
Our team believes in following up with companies' managers about the execution of the recommendations in the audit report.
Do You Have Any Inquiries About Our Internal Audit?
Don't Hesitate to Contact Us. Reach Out and We Will Help You Quickly.