Accountants in Dubai
Outsourced CFO Services - Premier Services for Companies Across Dubai and UAE
Successful CFOs are supposed to work together with businesses and help them make informed decisions. This affects the business directly. So, whether you are looking for an interim CFO Service or an Outsourced CFO Service to provide advisory services, you need a reliable partner. Excellence Accounting Services can provide leadership and the right steps to yield the positive results you desire.
It is imperative for a CFO to study the goal of a business first before providing any insights on money management. CFO services in Dubai, UAE will suggest viable strategies to make the firm more profitable after analyzing all angles. For instance, a business owner who wants to attract sponsors will require a different strategy from a company that wants to expand its product range.
Our CFO outsourcing services in Dubai and across UAE are provided by financial experts who have knowledge of the local market and best practices. Because we are approved specialists, we have the know-how of handling the complex needs of our clients.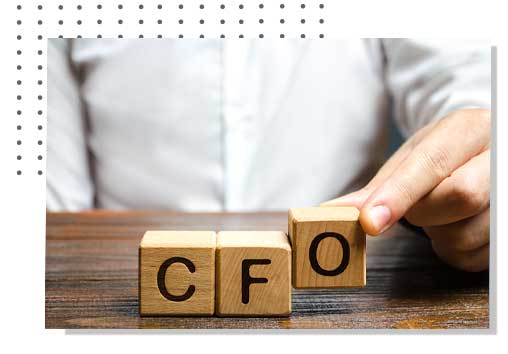 Get a Clear Insight of your Income & Expenditure
So You Can Manage Your Accounts Anytime, Anywhere.
Benefits of Our Outsourced CFO Services
Reduced Costs
Save a lot of money and also experience the best quality of work from outsourcing your CFO needs.
Proper Reporting
With CFO outsourcing specialist, you are sure to get financial reports on your performance on time
Solid Systems
An outsourced CFO service provider will ensure internal controls in place.
Easy Account Management
A chief financial officer can help you manage your cash flows as you focus on your core business.
Our Outsourced CFO Services in Dubai and UAE
We provide CFO services that can really help your company grow. Our CFO experts offer the following:
Formulating business strategy/policy and action plans.
Guidance and monitoring accounting dept as and when required.
Support for cost analysis in project accounting and construction contracts.
Guidance for setting up of internal control processes.
Guidance for drafting and implementing SOP.
Provide regular business advice to the CEO/owners as needed.
Support for pre-costing and post costing analysis.
Liaison with banks and other financial institutions.
MIS report preparation and analysis of financial data
Cash flow and working capital management.
Review of contract with customers, suppliers and more.
Guidance related to UAE tax issues.
Provide support for the preparation of annual budgets and it's a review regularly.
Looking for a Professional CFO Outsourcing Services in Dubai, UAE?
Try Our CFO Services Today. Our Experts Will Ensure Your Progress Financially and Socially.
If you choose to work with Excellence Accounting Services, you have access to the following benefits:
We're one of the most affordable companies in UAE offering quality Outsourcing CFO services.
Our CFOs are qualified and well-experienced chartered accounting from the UAE,
We provide CFO services according to your business needs and requirements, based on your budget.
When our CFOs work on any case, they provide results with support of data analysis.
EAS is a Certified CFO Outsourcing Service Provider in UAE
Get Free Consultation Today. Register Your Interest Now.