Accountants in Dubai
Financial Reporting Services in Dubai, UAE That You Can Rely Upon
Leverage your financial data to work in your favor. Excellence Accounting Services (EAS) provide financial reporting services in Dubai and UAE, that identify weak points and offer recommendations to improve your business.
Do not just collect your data and throw it in the gutter let us show you how to use this important information to make your business strong and successful.
Our team leverages their skills and modern accounting practices along with bookkeeping services to offer you the best solution. We collect accurate relevant and useful financial data on your business performance, evaluate it, and report it to you.
Count on us to ensure your financial data is well-organized and in full compliance with government rules and regulations.
We will put all your information into our system, which will then be analyzed by our software and summarize the findings. We then use these reports and analysis, our qualified professionals will advise you on the challenges that your business is facing and how to avoid them in the future.
It is our EAS's mission to help you overcome business challenges that may come your way and strengthen your bottom line.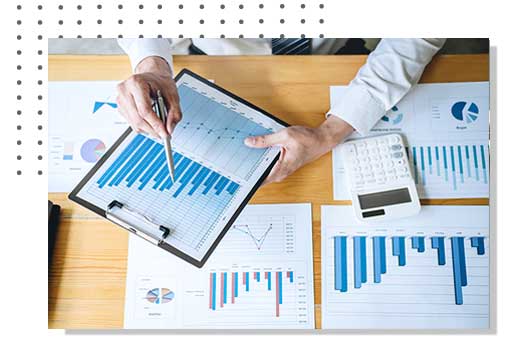 Financial Reporting Services
- Customized to Your Needs. Consult Us Today.
Benefits of Outsourcing Financial Reporting Services
in Dubai and UAE. Financial reporting outsourcing services can give your business access to the following services:
Detects Fraud
This is one of the significant factors that could cripple a business and is very common. Any business should put in place ways to detect fraud before it is committed.
Improves Collection
When a payment is received from the bank and cleared, it's not an outstanding receivable. But if there are any delays, they notify you to improve more on the collection strategies.
Identify Bank Errors
Statements contain errors that might go unnoticed until the reconciliation process takes place. When this is detected, we follow up, track the source, correct it, and inform the client.
Prevents Overdraft
The time between transactions between vendors and customers can significantly impact businesses, especially ones with low cash reserves.
Our Financial Reporting Services in Dubai and UAE
Our financial reporting services in Dubai and UAE include:
Develop chart of accounts.
Providing interim CFO / controller.
Assistance with consolidation process, including automated consolidation tool.
Training on accounting standards.
Processes affecting financial reporting.
Governance portal implementation and support.
Preparing pro-forma or projected financial statements.
Creating carve-out financial statements.
Improvement of internal financial controls and the quality of key upstream business
Revenue recognition processes and controls.
Stock-based compensation.
Post-merger integration of financial reporting process.
Preparing accounting / finance manuals.
Need Help with Financial Accounting Report Management
What makes EAS the number one for outsourcing financial reporting services in Dubai and UAE?
Excellence Accounting Services is all about ensuring adaptable services for clients in Dubai and UAE. We work based on your needs and preferences.
Hiring in-house team can be expensive. And you'll need efficient professionals to get the work done. With us, you get the best UAE financial reporting services at a reasonable rate.
Time is of the essence that's why we have invested a lot if resources to ensure we carry out processes faster and efficiently within the stipulated time frame.
Experienced Professionals
Our financial reporting experts are the best in the industry, boasting of expertise, and years of experience across various industries in Dubai and UAE.
Secure Your Company with Our Financial Reporting Pros. Talk to One of Our Experience Financial Experts Now
Excellence Accounting Services Can help manage your Financial Reporting Services. Contact Us Now for Consultation