Business Consultants in Dubai, UAE
Business Valuation Services in Dubai and UAE
with 100 Percent Success Rate
Are you buying or selling your business in the United Arab Emirates? If so, you are probably wondering how you could get an appropriate appraisal that your stakeholders can see. You sure want to avoid selling your business for less amount of what you truly deserve. Perhaps you are purchasing a business and are not sure if the price you are paying for is fair, a business valuation could help you out.
Our goal is to provide clients with trustworthy business valuation services. From reviewing forecasted and historical information, balance sheet analysis, cash flow, income statements, carrying out meetings with managers to discuss operations, and more. Whatever your business goals are, Excellence Accounting Services guarantees authentic and correct reports for ensuring your financials are professionally done.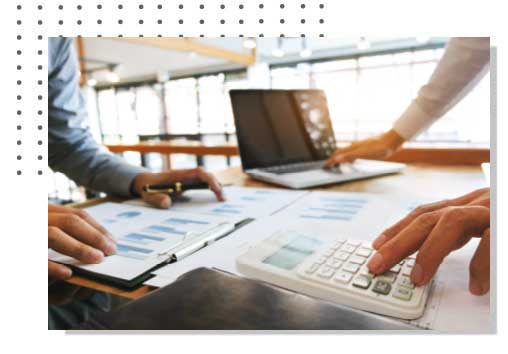 Save Time on Your Business Valuation. Let EAS Cate to Your Needs.
Benefits of Outsourcing Business Valuation Services
Let us put some light on the benefits of hiring an outsourced business valuation expert in Dubai, UAE:
Access to Expertise
Outsourcing business valuation allows you to focus on your business core functions and access skills from industry professionals.
Economical
It is cheaper to outsource services than to rely on inhouse staff. You will increase more profits and cut on operation costs.
Scalability & Flexibility
You will be able to meet unforeseen demand and handling any kind of constraints with at most capacity.
Efficient Use of Time
Outsourcing business valuation services results in time saving as your company does ot have to keep up with laws, procedures, and policies.
Reduced Fraud
Because the valuation process is done by an outsider, the likelihood of a fraud to occur in your business is almost nil.
Improved Work Productivity
Outsourcing enhances productivity and managing risks the correct way. Increased productivity leads to more revenues.
Our Business Valuation Services in Dubai and UAE are:
Excellence Accounting Services provides the following key Business Valuation Services
Transaction Advisory
We offer model validation, mergers & acquisition analysis, synergy analysis, equity structures, information memorandums, and optimal debts.
Audit Support
Our business valuation experts provide tailored auditing support on security pricing valuations, model valuation and more.
Start-up Valuations
EAS helps venture capitalists and aspiring business owners in equity ownership negotiations. We help to evaluate equity during fundraising.
Due Diligence Support
Our valuation pros are trained to manage various types of due diligence support needs such as data room organization, data collection, research, investigation, and communication.
Portfolio Valuations
We provide custom valuation advice on portfolios such as derivatives, fixed income assets, equity investments, and side pocket investments.
Real Estate Valuations
We offer premier support for real estate transactions including lease financing valuations, purchase price allocations, financial reporting, and sale lease backs.
Compensation Valuation
We offer valuation support for employee compensation plans, incentives, revenue sharing, and performance associated awards.
Other Services
We provide extra valuation services such as key indicator reports, capital asset advisory, compliance scenario analysis, financial statement analysis, and key indicator reports.
See how you can take your Business further with EAS
Request Free Consultation
Working with us has so many benefits. Here are the reasons why clients across the UAE trust our business valuation services:
Our business valuation outsourced experts are trusted by buyers, business owners, and companies. Our services are realistic and accurate valuations.
Solid Valuation Experience
We have handled numerous complex cases arising from sales and purchase contracts, and partnership disputes. Our experience proves our perfect results and strong decisions.
Experienced Valuation Analysts
We boast a great team of appraisers' wit knowledge and experience to deliver valuations based upon certified professional standards- 100 percent committed solution providers.
Professional Valuation Reports
EAS provides resourceful and reliable valuation reports for businesses. Whatever your goal, we know valuations are important in decision-making. Let's help you make smart decisions.
Let Us Help You with All Your Business Valuation Needs.
Don't Wait Any Longer. Success Awaits on The Other Side. Please Contact Us Now and Let Us Talk About Your Needs.