Business Consultants in Dubai, UAE
Company Formation Services in Dubai and UAE
Quality Assistance from Specialized Company Formation Specialists in Dubai and UAE
A foreign firm looking to setup a business in UAE can opt to form a representative office, a branch or a registered entity. Alternatively, the company can work with a commercial agent to provide services on its behalf.
Also, new businesses can carry out their operations within a Free Zone, a designated, self-governed area created by the government to promote economic activity in the country. A Free Zone has its own laws and regulations. The UAE has approximately 40 Free Zones with more underway.
At Excellence Accounting Services, we help companies setup their brands in the UAE. Our business setup services in Dubai range from registering private and free zone companies to setting up offshore and automated offices. We aim to deliver a concierge strategy to help setup a strong foundation for your company.
We provide clients with a precise and crystal-clear image of how to setup a company in Dubai. Also, with our vast network, we have strong bods with banks and other financial institutions as a reliable introducer. EAS helps to open onshore and UAE-based offshore bank accounts for company setup in Dubai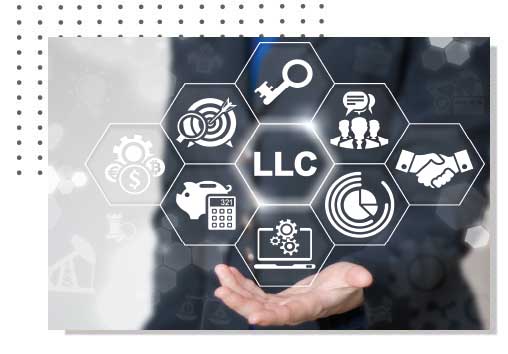 Step by Step Help to Start Your Business in Dubai and Across the UAE
Benefits of working with Company Formation Consultants in Dubai
Let us put some light on the benefits of hiring an Company Formation expert in Dubai, UAE:
Expert Advice
A company formation consultant is an experienced and knowledgeable professional who knows what your company requires to grow as well as where and how to form the company.
Help in Choosing the Perfect Jurisdiction
UAE has 40+ free zones and most of them are in Dubai. A business activity determines where the company will be formed. A business consultant can help you find the perfect location for your business.
Understand Business Ownership
Company Formation specialists know the rules and regulations of every sector. They will guide you about ownership & consequences that come with violations of rules & other legal processes.
Evaluation of Business Setup Costs
While you can find basic information from the authorities, a business formation company can help you a great deal to find great offers and share in-depth market analysis.
Our Company Formation Services in Dubai and UAE are:
We offer a range of Company Formation services in Dubai, Abu Dhabi, Sharjah, Ajman, Ras Al Khaimah, Umm Al Quwain, Fujairah. across the UAE. Our one-stop solution is all you need to cater to your business needs:
Company Registration and Licensing
EAS business formation services can help you with tailored company setup solutions that are affordable, hassle-free and based on your needs.
Sponsorship and Visa Services
Our business consultants in Dubai and UAE provides trustworthy and reliable local sponsorship and visa help to make sure the risks are as little as possible.
Banking Assistance
We have good relationships with several banks, our company formation specialists can help setup bank accounts for you quickly and smoothly.
Investor's Right Protection
Our sponsorship contract comes with solid investor rights and protection agreement that ensures complete operational ownership.
Value-added Services
Our business consultants provide value-added services to new companies such as recruitment services, business hubs, tax consulting, advertising services and so on.
If You Have Questions About Company Formation in Dubai and UAE
Kindly Reach Out to Us. We'd Be Glad to Assist You
Here is why you need to work with Excellence Accounting Services to setup your company in Dubai and UAE.
The success of a company is measured by the trust of clients. At EAS, we want our clients to be more than satisfied, we make sure they are delighted. 
We are completely transparent and honest in our charges and fees. We quote our services openly. We have no hidden charges in the quotes.
We have been in business for more than a decade. We provide services to firms all over Dubai and other norther Emirates.
EAS business consultants offer quality services at a market friendly rate. We never hike our prices, but adjust based on market rates.
Ready to Work with EAS to Setup Your Business in Dubai and UAE
Let Get Started Now. Register Your Interest with Us.