Join the Winning Team Today
Benefits of Financial and Outsource Accounting Services in UAE
Most companies don't see the need to outsourced accounting services in UAE and instead, opt to hire an in-house team or rather handling it all by themselves. 
But have you considered the benefits you will enjoy and how it will impact your business in terms of efficiency and growth?
Here are the benefits of our Outsource Accounting Services:
Outsource Accounting Services Saves Time
They say time is money, and time is a significant factor in business. Outsourcing accounting services help you to manage your time by handling the accounting process on your behalf. We have a huge team that works together and pay attention to every little detail in your financial records. As your business grows, so does the complexity of the Accounts and Book Keeping Having someone doing all these for you ensures that you spend that time in other core areas of your business.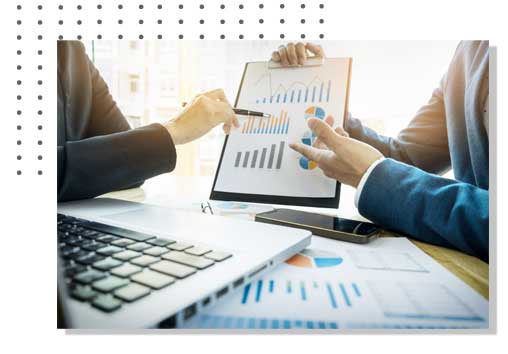 Outsource Accounting Services Reduces Overhead Costs
One might wonder if there is a need to pay for these services when you can do them by yourself. It might not make a lot of sense to outsource, but the business will grow. The more the growth, the more complex managing the Accounts gets. This means more employees, running all their details like sick offs, leave days, taxes, etc. All the above can be overwhelming, but you will notice how much time and money you will save with an Accounts Services Provider. You don't have to pay an in-house team on a salary basis. With a service provider, you pay a fixed amount for the same services.
Outsourcing Accounting Improves Data Security
We have a whole team of qualified professionals in different sectors; also, we have invested heavily in accounting software and data Security. Handling the Accounts or getting an in-house team does not guarantee that your data is in safe hands. It is also an extra cost to buy, install, and maintain all the software you need. Outsourcing means you get to have your work done with the best software in the market and still be assured of top confidentiality when it comes to all your financial data at a lesser cost.
Financial and Outsource Accounting Services Give You Access to a Different Services
One of the good things with outsourced accounting services is that you will most likely get more value for your money. In other instances, you will get charged extra for the same services such as Expert advice, consultation, bookkeeping, contract generation, etc. all in all, and you pay less for more. We go that extra mile to ensure that you can access our services from our mobile app.
It Helps You Make Sound Financial Decisions
Like we mentioned earlier that some of the benefits include saving time and reducing costs. With these two-handled, you are assured that your books are in check. A proper financial record helps you to make decisions concerning the business. You can track the cash flow, the expenses, etc. this helps you plan and carry out quick and smart decisions. You also take advantage of the extra services receiving advice and market tips. Knowing that these are experts and understand the market better, you are more informed and learn more about ways to improve and increase the income that will take your business to another level.
Looking for Trustworthy Outsource Accounting Services?
Call Us Now or Schedule Your Free Consultation. Our tailored accounting processes and client-centric approach gets you results, quickly.