VAT Consultants in Dubai, UAE
VAT Implementation in Dubai and UAE
Looking for Professional VAT Implementation Services in Dubai and UAE? Try Our Services
The UAE implemented the Value Added Tax (VAT) on 1st January 2018, which is an indirect tax. The tax is paid at different levels of goods and services. So, companies must take measures for implementing VAT into their operations.
Excellence Accounting Services (EAS) offers help in VAT implementation for businesses around the UAE, including Dubai, Sharjah, Ajman, and other emirates.
All businesses must receive proper guidance for VAT implementation in the UAE to compliant with the current VAT rules and regulations and create a comprehensive tax strategy. Here is the VAT implementation procedure:
VAT specialists will visit your office to know its business model for developing a VAT implementation strategy suitable for the UAE VAT regulations for your business.
In this stage, EAS provides training on the areas of VAT in the UAE and discuss the type of business and how it complies with the UAE VAT Law. We shall provide tools for training your employees from all the departments that are associated with VAT.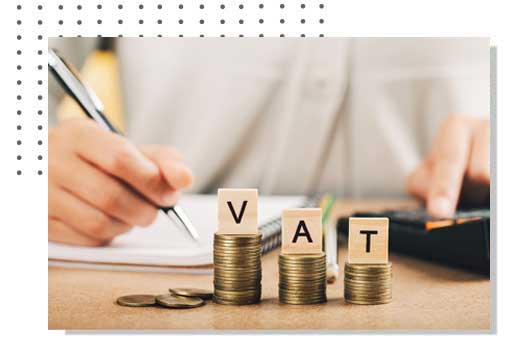 Our Team Is Always Ahead in Providing Top VAT Solutions to You.
Benefits of Outsourcing VAT Implementation Services
Save Cash & Cut Overhead Costs
This function would get rid of costs associated with recruiting and training of specialists. The cost of paying salary and office would be eliminated.
Provides Expert Services
The VAT outsourcing service provider boast a team of skilled and proficient individuals who ensure outstanding service.
Minimizes Time
The firm providing VAT implementation outsourcing services has knowledgeable professionals who can increase efficiency, allowing you to focus on other crucial matters.
Provides Tax and Audit Financials
You can have the benefit of having your reports done on time and in a fashion that would be easy to understand.
Our VAT Implementation Services in Dubai and UAE are:
Our VAT Implementation Services in the United Arab Emirates include:
Evaluating VAT Impact on Your Business
Identifying VAT Implementation Project Manager
At Excellence Accounting Services is Where Customized Service meets Maximized Performance.
Consult Our VAT Advisory for Eternal Prosperity.
Our VAT Implementation Services span Dubai, Sharjah, Ajman and other northern emirates. For more information, contact us and one of our specialists will get back to you.
We are experts in VAT implementation. If you consult us about your business, we will ensure you get the best financial advice that is crucial to your business success.
When you hire Excellence Accounting Services, you be confident knowing you have access to industry experts. This ensures easy-to-understand financial reports that adhere to laws.
An outsourced VAT service provider such as Excellence Accounting Services lets you stay ahead of your accounting data daily. We shall assign a dedicated team to your case.
We not only provide the best VAT services in Dubai and UAE, but our services are one of the cheapest in the market. So, you can always rely on our affordable services.
Why Should You Do It on Your Own When You Can Outsource Your VAT Implementation?
Outsource Your Processes with EAS and Save Cost and Time.