Business Consultants in Dubai, UAE
Business Consultancy Services in Dubai and UAE
Business Consultants in Dubai That Provides Actionable Advice Drive Growth
The United Arab Emirates is one of the countries in the world listed for "Ease of Doing Business". Truthfully, The UAE business environment is approachable and welcoming. However, it is always challenging to setup a business in a foreign country.
And that is where Business Consultancy Services in Dubai come in. Business advisors in Dubai understand the market very well ad can offer valuable insights that may improve your business prospects.
Backed by a team of highly specialized experts, EAS strategic services meet the needs of all our clients- regardless of their size or type- and deliver eternal measurable growth. We can take your business to the next level. Try our services today and see how our business consultancy services can shape the future of your business.
With years of experience, our business consultants Dubai experts are dedicated to taking you to the next level. At Excellence Accounting Services, we combine our skills and insights to enhance your strategies and processes, and in turn, your business. We are glad to shape and improve how our clients structure and handle their business.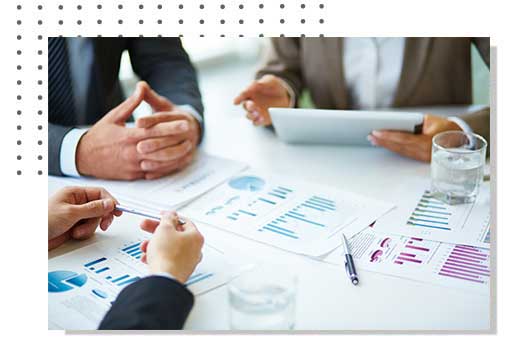 Looking to Improve Your Business but Don't Know Where to Start? Let Us Guide You
Benefits of Outsourcing Business Consultancy Services
Staffing Costs
Finding the right inhouse team to hire can be costly. Plus, you spend a lot of time. But by hiring an outsourced business consultant, you are cutting on overhead costs and expenses.
Outside Market Knowledge
Business advisors in Dubai come with vast experience. They understand the marketplace and can help you navigate your way to success.
Leveraging New Skills
One of the key roles of a Dubai, UAE business consultant is to stay up to date with business trends, methodologies, and strategies, and that's what you get when you hire one.
You Have Time to Plan
Its difficult for managers to find time to plan and execute plans as they are busy. Outsourcing consulting activities gives them time to focus on the core business.
Our Business Consulting Services in Dubai and UAE are:
We offer a range of business consultancy outsourcing services across the country. Our services include:
General Business Consulting
Business Planning and Performance Improvement
Change and Program Management
EntrepreneursBusiness Intelligence and Analytics
Business Valuation and Litigation Support
Business Process Outsourcing and Consulting
Family Business Consulting
EAS Can Help Carve Out a Niche Business
and Help Navigate You Through the Whole Process.
Many clients in Dubai and across the UAE trust in our business advisors because of the following traits that we possess:
We understand the business of our clients, anticipate what they need, and meet deadlines without compromising quality.
Out tax advisors provide professional, dedicated, and world-class experts to suit the needs of your business.
One of our secrets to success is to foster one on one interaction with clients to know what they need and require before we could take the necessary steps.
Our team of business consultants applies flexible charges based on the needs of the clients, responding amicably to the ever-changing requirements, goals, budgets, and goals.
For More Information About Our Business Consultancy Services
Please Contact Us Now and Let Us Talk About Your Needs.